Applied Bolting Technology. The Best Way to Bolt.
Applied Bolting Technology manufactures direct tension indicating (DTI) washers. These washers are used to get bolts installed to the correct TENSION, regardless of the bolt's torque resistance. Tens of millions of Squirter® DTI's have revolutionized the bolt-up process on power plants and other structural steel projects, making bolt installation and inspection easy and accurate. Now the Wind Power Industry is using them too.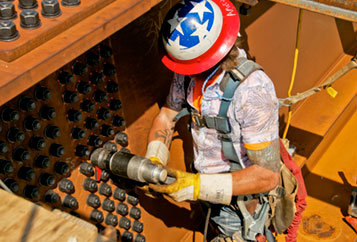 DuraSquirt® DTIs
Our DuraSquirt® DTI will simplify your bolt-up program as a feeler gage is no longer required! This latest version of our self-indicating DTI allows for inspection on your schedule as the squirt indication withstands the test of time. Leaving positive proof that the bolts have been tensioned, validating that crew have done their job well and that the connection will function as intended. READ MORE
At AASHTO's annual Sub-committee on Bridges and Structures (SCOBS) meeting held in Norfolk, VA, a ballot was passed that specifically mentions and includes Self-Indicating DTIs (Squirter® DTI's) as an approved option for indicating when at least the minimum required clamp load has been achieved in structural bolts on steel bridges.